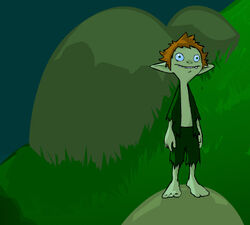 Bingbong is another one of Brackenwood's inhabitants, with origins as obscure as any of the other mysterious creatures in the series. Bingbong has the physical likeness of a sort of childlike elf or goblin and is the embodiment of innocent stupidity. His introductory episode was in the first Brackenwood episode, Bingbong of Brackenwood, and he subsequently appeared in Prowlies at the River.
Despite Bingbong's slight build and infantile mentality, it is wise not to misjudge him. He is the strongest being on the planet. He means no harm to anyone, and often goes out of his way to help where he can. This often turns to disaster simply because Bingbong simply has no concept of his own strength.
Bingbong is also safe from the wrath of both faeries and musical storms by his sheer stupidity.
Bingbong of Brackenwood Edit
Main article: Bingbong of Brackenwood
Prowlies at the River Edit
Main article: Prowlies at the River