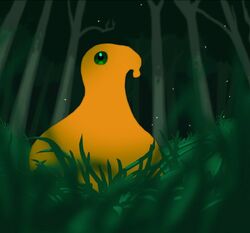 Fatsack is the first episode of the Brackenwood Wildlife Documentary Series. It is a short animal documentary-style movie that describes the fatsack and its behaviour. The episode is narrated by A.K. Alfadel.
Transcript
Edit
This harmless creature does very little but sit in the long grass and feed. With blunt claws it tears at the grass to disturb gnats, then inhales them through its short trunk.
The fatsack is a living bag of weak digestive juices that slosh noisily when it moves. Gasses build up inside the creature and are released from its trunk with a sound like flatulence.
Ad blocker interference detected!
Wikia is a free-to-use site that makes money from advertising. We have a modified experience for viewers using ad blockers

Wikia is not accessible if you've made further modifications. Remove the custom ad blocker rule(s) and the page will load as expected.